WaneScan, our series of measuring and optimization systems for wood, has been expanded with three new models for 3D measurement, optimization and edging of longitudinally fed timber. By combining the latest technology in longitudinal profiling with our proven optimization engine, we can offer a system that minimizes time, optimizes yield and maximizes production flow in your edging process.
World-leading measurement technology
The scanner is equipped with sensors that are world leaders in profile measurement. From data, a 3D model is generated, describing board geometry.
Optimized output
The optimization engine is the brain of the system. Here, the edging decisions are taken in real time based on key parameters specific for your particular process. For optimum yield.
Unmatched accuracy
By measuring from three angles around the board cross section, we provide complete, four-sided high-accuracy measurements.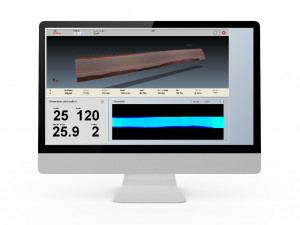 User-friendly HMI
With the system comes a user-friendly HMI. Boards and optimized outputs are visualized in 3D. Easy access to all relevant parameters provides full and immediate control.
Contact
Please do not hesitate to contact us for further information!
 +46 (0)155 26 90 70          sales@adec.se