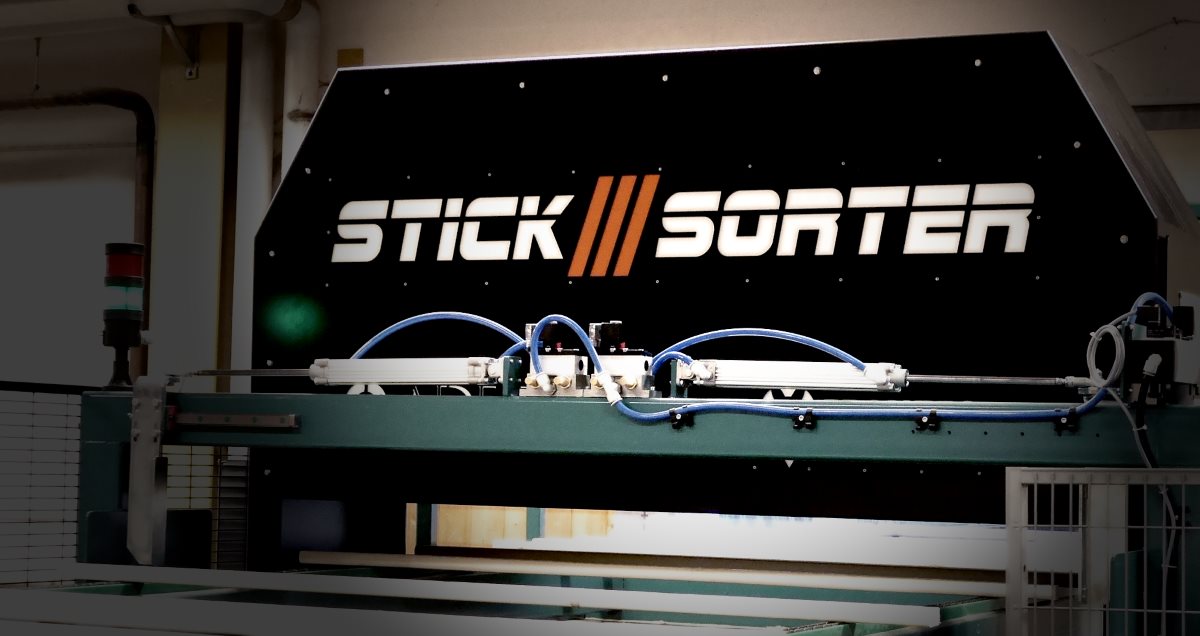 Update: StickSorter now has its own place on the web. Please visit www.sticksorter.se!
StickSorter ensures the quality of your sticks and automatically sorts out those not living up to your expectations.
Therefore, you will get a faster, safer and more efficient stacker line. StickSorter is probably the first system of its kind in operation, and is the logical next step when you need to improve availablility of your stacker line.
Focusing on speed, accuracy and ease of use, StickSorter will be a modern element of your sawmill. The system requires little maintenance, has a low cost of ownership, and its function is easily set up in an intuitive user interface.
Advantages
Improves production flow in your stacker line.
No need to manually sort out poor sticks.
You avoid sticks being torn down or broken.
Requires very little maintenance.
Modern, user-friendly touch interface.
By analysing production data, stick management can be further improved, increasing stick lifetime.
---
Efficient stacking
With simplicity, high level of automation and low need for maintenance, you get a very cost efficient increase of performance in your stacker line.
Fast scanning and sorting
The quality of your sticks is analysed with respect to the following properties:
Length
Thickness
Width
Hook
Bend
Irregularities
Sprains and breakages
Scanning, analysis and sorting is performed at speeds up to 300 pieces per minute. Defective sticks are discarded using pneumatic pushers.
Easy to use
A system works best when it's intuitive and easy to use. The StickSorter function is easily adapted to your requirements in a user-friendly touch interface. Every stick is visualized and scanning result, decision and cause are presented in real-time. The interface also includes production statistics, settings, status and alarm info.
Smooth installation
StickSorter is integrated into your existing stacker line, and is compatible with all types of stacker machines. The feeding system consists of control, synchronization and a short cross conveyor, which is integrated into the existing conveyor. In this way, you get a smooth installation without large space requirements and with minimal impact on production.
Keep track of production
StickSorter delivers complete statistics, for every stick. By analyzing production data, shortcomings can be identified and the stick management further improved.
This is StickSorter
StickSorter consists of a scanning unit, encapsulated control and human machine interface (HMI), a synchronized feeding system, and a dual pushing unit.
Cutting edge technology
The scanning unit of StickSorter is equipped with world leading measurement technology, using smart, laser-triangulation sensors. For every stick, a 3D model is generated and analyzed in measurements throughout its length.
---
General data
Maximum Speed: Up to 300 pieces per minute
Measurement Technology: Optical, touchless
Accuracy Height: +/- 0.5 mm
Accuracy Width: +/- 1 mm
Accuracy Length: +/- 3 mm
Scanning region L x W x H: Approx. 1700 x 200 x 100 mm
Interface: Gigabit Ethernet
Synchronized Feeding System: With optional separation of sticks
Sorting: Dual pneumatic pushing unit
Operating Temperature: 0-50°C
---
Contact
Do you have questions or want to place an order?
Please don't hesitate to contact us!


 +46 (0)295 612 88          info@scanware.se