End jointing demands accurate dimensions on tongues and grooves. For production to be efficient and profitable, it is critical to detect abnormalities early, so that downtime and waste is minimized.
Therefore, we are now developing Checkspont, a quality assurance system for end jointing. Checkspont analyzes surface conditions in real time and matches the measurement results to given templates.
World-leading measurement technology
The scanners are equipped with sensors that are world leaders in profile measurement. From data, a 3D model is generated for subsequent analysis.
Real time analysis
End geometry is analyzed both on a per-profile basis and as a whole surface. This way Checkspont reveals dimensional errors in tounges and grooves, as well as discontinuies and bevel cuts.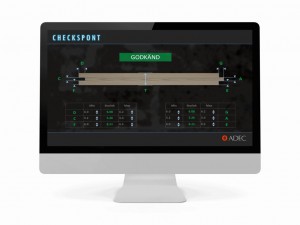 Adapted to your needs
Checkspont is interfaced using an operator PC with dedicated software for user interaction and analysis. The user defines the desired end geometri and acceptance levels. Given the current template, decision making is automated, approving or rejecting the pieces.
Checkspont is available as a single- or doublesided system, using one or two scanners.
Improved production control
Checkspont can also deliver production data to overlying ERP/BI systems, improving production control.
Contact
Please do not hesitate to contact us for further information!
 +46 (0)155 26 90 70          sales@adec.se